China Xin Yongan Futures Company Limited was incorporated in 2006 and licensed under the Hong Kong Securities and Futures Commission, conducting Type 2 (Dealing in futures contracts) regulated activities. SFC CE No. AOJ411
We are committed to offering premier client service and a professional trading operations to our individual and institutional clients. We have experienced substantial growth since the establishment. We are the pioneer in Hong Kong derivatives market by persistently innovating trading tools, expanding product diversity and providing quality services to meet the needs of our clients. We connects clients to global derivatives markets, including exchange traded financial and commodity futures and options.We also offer 24-hours telephone voice brokerage across all markets.
China Xin Yongan Futures Company Limited is 100% owned by Yongan Futures

◆ Yongan Futures Company Limited is one of the largest futures companies in China with
the largest scale, the widest business scope and the strongest research strength.
• Founded: 1997
• Registered capital: 860million Yuan
• Head Office Location: Hangzhou
• Branches: 30+ cities Countrywide
• Number of Employees:850
• Business: Commodity Futures Brokerage, Financial Futures Brokerage, Futures
investment Consultancy, Asset Management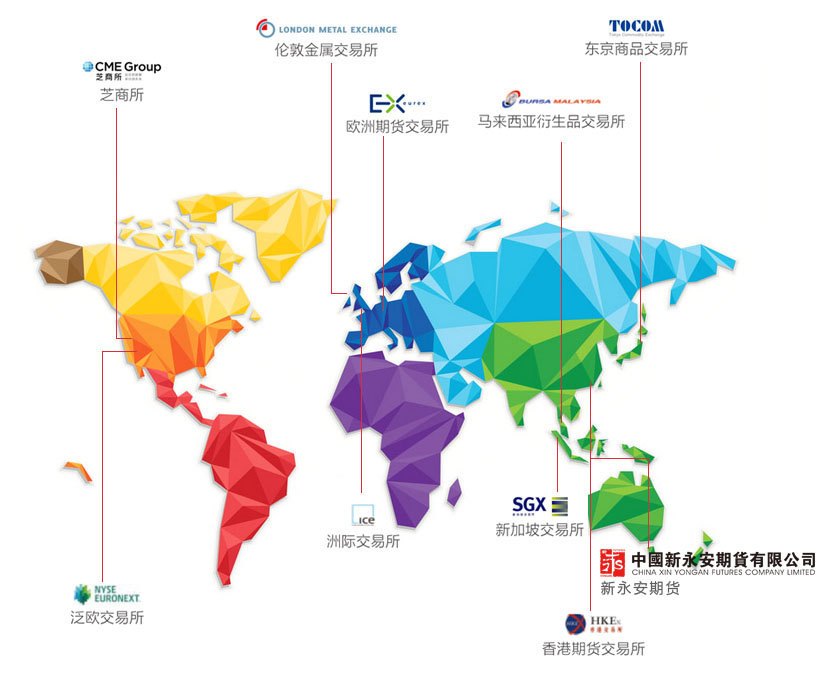 China Xin Yongan Futures Honors
•

The Best Futures Company of 2012, The1st International Financial Annual


Champion Awards of Hexun






• Mr. Wang was ed as the 5th Vice-Chairman of Chinese
Securities Association of Hong Kong






• The Best Futures Company of 2013, The 2nd International Financial Annual
Champion Awards of Hexun
E - trading
Esunny trading platform is simple to deploy, easy to use.
• Access to all global major electronic derivatives exchanges, cover over 100
futures contracts, 20 options contracts and 70 spread contracts
• Display positions and account balances in multi-currency
• Low latency DMA connectivity to CME and HKFE
• Support various order types, e.g. GTC, Iceberg order, Ghost order...
• Straight through order routing to the relevant exchanges
• Real-time account balance and position s (including LME)
• Rapid order placing via market depth window
• Institutional Trading Management System is developed specifically for investment
firms or commodity trading companies to manage internal trading sub- accounts
efficiently, ITMS consists of front-end terminals for traders, administrative
terminals for management staff and risk control systems
demanding strategies across a wide range of products and exchanges.
• Provide Strategy software to complete "Algo trading" & related service
• Support multiple trading Plug-in and strategy modules (MultiCharts Streaming Quote &
Auto Trade, MS Excel DDE Quote & Auto Trade, )
• Provide value added trading instruction types (Stop Order, Market, AUTO)
• Support Cross-Market Brokers in a platform
• Support Cross-Market Exchanges in a platform
• Support most popular strategy modeling software
• Support Intelligent order management
• With MultiChart, you gain the global trading options you need to stay on the winning side. MultiChart's features includes highdefinition charting, real-time market scanner, easy language compatibility, automated trade execution, dynamic portfolio back testing